Welcome to the South Puget Sound Chapter of SHRM
We are an affiliate of the Society for Human Resource Management. Whether you are new to the HR field or have many years of experience, we are a local starting point for networking, information, professional development and continued support of excellence in Human Resources.
We welcome your use of this site as a resource, and encourage you to check back frequently for updated information. We also encourage your involvement and suggestions about all of our activities, on the web and off. To reach us, email registration@spsshrm.org.
Not yet a member of our local chapter? Membership is free and provides great benefits to you as a HR professional. To learn more and to join visit http://sps.shrm.org/join-now or complete and return the Chapter Designation Form.
Learn more about your 2016 Board here! We are all eager and ready to serve our membership and open to hearing from each of you!
Need HRCI or SHRM Certification Credits?
SPS SHRM provides monthly breakfast programs, that in most occassions, are pre-approved for 1.0 HRCI & SHRM Cerfitication credit hour. You can see our upcoming events by clicking here.
Novemeber 1/2 Day Event
Thursday, 17th, 8am - 11:30am
Breakfast & Registration @ 7:30am
C.I. Shenanigan's
"Raising the Bar Starts Now - An Everyday Approach to Elevating Engagement & Performance for HR Practitioners"
Presented by Bec Parnell, MS Edu & Michelle Koven, MS @ MultiCare Leadership Group
SAVE THE DATE!!!
November 17, 2016 - 1/2 Day Seminar!!
Raising the Car Starting Now! An Everyday Approach to Elevating Engagement & Performance for HR Practitioners Presented by Michele Koven, M.S. & Bev Parnell, M.S. Edu from MultiCare
@ C.I. Shennanigan's - 7am - 11:30am
Watch your email for Registration!!!
We invite you to be part of our organization by taking advantage of our marketing and sponsorship opportunities. We will give you as many opportunities as possible to partner with our members so you will get a positive return on your investment. Click here for more information.
Direct Benefits
Increase Revenue
Support continued education within our industry
Network, network, network
Amplify your company's image and reputation
Target specific audience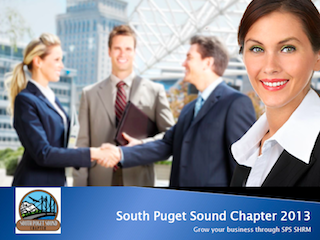 SPS Current Chapter Sponsor's