Event Details
2020 HR Day on the Hill
Date:
January 24, 2020
Organizer:

Washington State SHRM Council

Location:

Washington State Capital Legislative Building
Olympia, WA

Price:

SHRM Member $75/Non SHRM Member $95

Event Type:
iCal link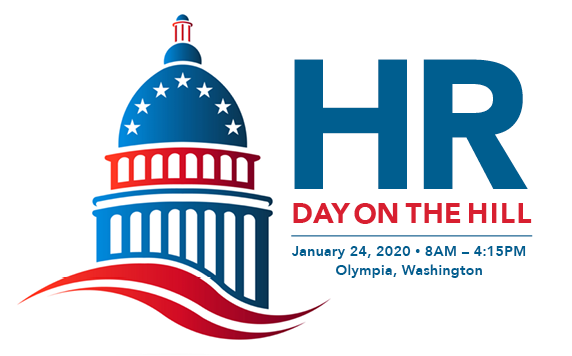 Date: January 24, 2020
Time: 8:00 AM – 4:15 PM
Venue: Washington State Capital Legislative Building, Columbia Room
Address: 416 Sid Snyder Ave SW, Olympia, WA 98504

HOTEL
Address: 2101 Henderson Park Lane SE, Olympia, Washington
Click here to reserve at room at the Hilton Garden Inn for $121/night.

PARTY BUS
The party bus is back for 2020! Hosted by South King County SHRM, it is free to SHRM members and provides round trip transportation to and from HR Day on the Hill. Stops will incluie Tukwila, Federal Way and Tacoma. Space is limited and registration information will be available soon.

2020 DAY ON THE HILL AGENDA
Speakers Include:
SHRM PDC's and HRCI credits are pending.
BOB BATTLES
Director of Government Affairs, Association of Washington Business
Topic Title: An Overview of Employment Law Legislation for the 2020 Session
KARA CRAIG
Employment Attorney, Vigilant
Topic Title: The Struggle is Real: We Need To Talk About Recurring Legal Issues In Today's Workplace

JOSHUA GRICE
Employment Standards Program Manager, WA State Department of Labor & Industries
Topic Title: Washington Employment Law: What's New & What is Coming
MATT LAPALM
Small Business Specialist, Employment Security Department
Topic Title: The Latest on the Washington Paid Family and Medical Leave Act

CATHARINE MORISSET
Partner, Seattle Office, Fisher Phillips
Topic Title: Employment Litigation and Enforcement Trends 2019 in Review